At Bupa, we understand that increasing health cover costs can create difficulties for many young Australians.
That's why we're focused on finding ways to keep your premiums as affordable as possible, while continuing to deliver better value.
We believe that the introduction of Age-Based Discounts will help young Aussies get quality hospital cover. We're committed to passing on the full discount that you're entitled to. It could save you as much as 10% on your private health insurance premiums right up until you turn 41.
Age -Based Discounting for young people.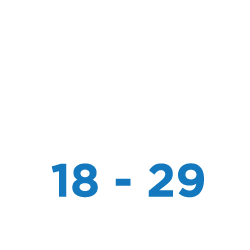 If you're a single or couple aged between 18-29.
Up to 10% You may qualify for an Age-Based Discount between 2% and 10%. When you take out Bupa Hospital Cover.
keyboard_arrow_left
keyboard_arrow_right
Age-Based Discounts by Age
Once you've received your Age-Based Discounts, you will retain that discount rate until you turn 41, as long as you hold hospital cover. These discounts will then be gradually phased out when you turn 41.
| Age | % Discount |
| --- | --- |
| 18-25 years old | 10% |
| 26 years old | 8% |
| 27 years old | 6% |
| 28 years old | 4% |
| 29 years old | 2% |
| 30 years old | 0% |
If you're already insured by another provider, you will be entitled to bring across the discount you currently receive, we'll verify your level of discount once we've received a clearance certificate from your old health insurer – but don't worry, we'll manage this process behind the scenes, so there's no need for you to do a thing.
Large network of providers
We have agreements with most private hospitals and day surgeries, plus a huge Extras network so you have more choice at an affordable price.
Get more value with our Extras network
Our Members First network includes thousands of dentists, physios, chiros, podiatrists and optical providers. This means more choice, and typically less to pay.
Exclusive range of member discounts and rewards
Even when you're in great health, there are still plenty of ways to get everyday value thanks to Bupa Plus. An exclusive range of rewarding health discounts, tools and more to help you live a healthier, happier life.
Get a private room in most private hospitals
Whether you choose a Basic or Top Hospital cover, you'll be covered for a private room in most private hospitals across Australia, for services included in your policy (not including Restricted Cover services)+.
Pay nothing for kids3
When you have a selected family product#, you'll pay nothing for kids until they're 25 on most dental, physio and more at Members First providers (yearly limits apply)3.
Quality cover
Some policies out there cover you for little more than accidents in a private hospital. Our policies are designed to cover the common procedures you're likely to need when you're younger.